Cosmetic & Family Dentistry
Lumineers / Veneers
The Greatest Breakthrough in the History of Dentistry
The innovation of LUMINEERS® has become one of the greatest breakthroughs in the cosmetic dentistry industry. LUMINEERS® rejuvenate damaged teeth structures by correcting crooked, chipped, or impaired teeth, and by balancing the ratio of tooth and gum proportions. LUMINEERS® are porcelain veneers whose material and appearance closely resemble that of your natural looking teeth. This type of cosmetic reconstructive procedure does not require the painful removal of tooth structure, but instead is simply applied to the surface of your teeth.
Thanks to this ground-breaking technology, you can skip right past most stages in dental treatments and go straight to the vibrant smile of your dreams just with the simple application of these wafer like structures. These thin, yet flexible laminates are capable of completely sculpting the arch of your teeth while simultaneously creating a vibrant polished appearance. A more conservative dental treatment than that of dental crowns, Lumineers only requires minimal shaping of the underlying tooth for their placement. These restorations retain their color and luster over a long duration of time making them an ideal solution for a total smile transformation.
LUMINEERS BY CERINATE® structure can be shaped as thin as a contact lens. and is affixed over existing teeth to match your natural tooth enamel. This type of dental procedure is considered such a great dental breakthrough for the need to extract the sensitive tooth structure like traditional veneers is completely thrown out of the equation. The application of LUMINEERS® does not require the process of shaving down your natural tooth to be shaped to the structure of the corrective material as is the case with the application of traditional veneers.
LUMINEERS can only be made from patented Cerinate® porcelain. This revolutionary porcelain is crafted through a proprietary process unavailable anywhere other than the Cerinate Smile Design Studios owned by Den-Mat® Corporation. In only two or three visits to the dentist, LUMINEERS provide a custom-made smile clinically proven to last over 20 years.
New LUMINEERS Technology Makes Painful Veneers Unnecessary
LUMINEERS® BY CERINATE® is a virtually painless procedure, due to the fact that there is no removal of a sensitive tooth structure entailed by this method. The application of these contact lens-thin "smile shapers" to the teeth is primarily what the whole procedure consists of. The beauty of the LUMINEERS technology is that the product is shaped to your damaged tooth, instead of forcing your natural tooth match the product. LUMINEERS can even be placed on porcelain Bridgework and Crowns with the new Revitalize™ Kit available to your dentist. LUMINEERS BY CERINATE is the best of both worlds—ultra-thin, yet super-strong, for a radiant smile that resists any cracking, which can damage restorations.
Because they do not require the removal of any tooth structure, LUMINEERS are also completely reversible. Get your perfect smile today!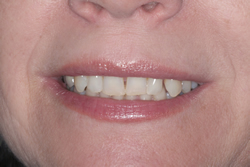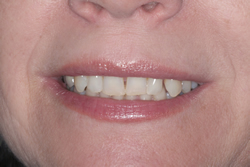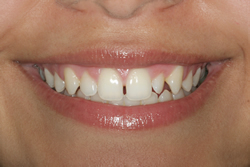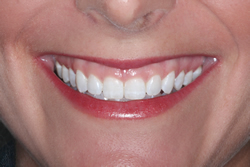 Lumineers Technique
BEFORE
TRADITIONAL VENEERS Technique
BEFORE
Lumineers VENEERS
NO PAINFUL TOOTH REDUCTION
TRADITIONAL VENEERS
PAINFUL TOOTH REDUCTION
PAIN-FREE AFTER Lumineers
POTENTIALLY PAINFUL AFTER