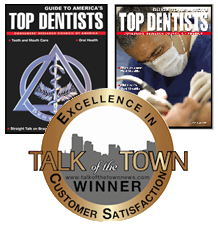 Dr. Renee Yurovsky has been chosen two times as one of America's Top Dentists by the Consumers Research Council of America and has been awarded the CMUS Talk of the Town Award for Excellence in Consumer Satisfaction.
Dentist in Philadelphia
When facing dental problems, a dentist who listens and responds is crucial. An experienced doctor who knows the field can effectively diagnose a patient's needs. Dr. Yurovsky and her staff of professionals meets all of these criteria. From general dental care to smile makeovers and even full mouth reconstruction, the doctor handles the patient's needs with complete care, up-to-date knowledge, and experienced hands. At the center city Dental Office of Dr. Renee Yurovsky, we have earned a reputation for skill, comprehensive services, and helping put attractive smiles on the faces of thousands of Philadelphians.
Here at the center city Philadelphia Dental Office of Dr. Renee Yurovsky, our doctor and her staff strive to provide the highest quality of service and best dental care possible for every one of our patients. Whatever the procedure, whether it is a tooth Extraction or have teeth whitening, we guarantee the patient will feel at ease here, both with our expert dentist and her hardworking staff. They are fully experienced in a wide range of dental services, both cosmetic and general, from Partial & Full Dentures to Root Canals, from Dental Crowns to TMJ & TMD Treatment, from Teeth Whitening and Bleaching to Inlays and Onlays, and more. Our mission is to make sure our patients receive unmatched care and results when using our services.
When it comes to dental care, there should not be any reason to dread the thought of going in for a checkup or feel like the appointment will be rushed or impersonal. Instead, one should feel secure in knowing that one's dentist will cater to one's unique dental needs and provide quality patient care.
While browsing through the pages on this site, our patients will learn important information; we want our patients to learn more about what Dr. Renee Yurovsky's office is capable of doing. Our patients will also have the opportunity to become familiar with General Dentistry and Preventative Care. With this information, our patients can understand how to keep their smiles healthy, bright, and strong.
Dr. Yurovsky understands that going to the dentist can be a very nerve-wracking process, so it is only natural to experience some degree of anxiety, which varies with each individual. However, or patients can relax with the knowledge that she and her staff are committed to their comfort and well-being, and therefore will do everything in their power to make sure their teeth are taken care of and their worries are alleviated.
Come to the Center City Philadelphia Dental Office of Dr. Renee Yurovsky, and you can be certain that you will experience high-quality dental care and customer service committed to your comfort and convenience with every visit. Our office offers full-service dentistry from the finest of professionals and experts in the convenience of one location to provide you with complete treatment continuity.
Our Affordable Dentist and her team are dedicated to providing you a positive experience. Rest assured that you will experience high-quality, personalized care to make your visit as comfortable and pleasant as possible.
Philadelphia Dentist
"Thank you for your interest in my affordable dental office in Philadelphia. My goal has always been to provide you with the highest possible standard of personalized dental care and service in a gentle, efficient, and professional manner. I work hard to extend your natural teeth' life and give you the confidence that a beautiful smile can instill. At my dental office, we meet all of your dental needs in one convenient location. We can offer you cosmetic dentistry, restorative dentistry, prosthodontics, periodontal care, and implant restoration. Your friends and colleagues may already be our clients -- and you might have already heard about our office. Regardless, we recognize that choosing a new dentist is a big step, so please call or e-mail us to address your concerns. If you'd like to meet us and see if our office is right for you, simply call 215-545-1202." - Dr. Renee Yurovsky
We accept many types of dental insurance. To be certain that your coverage will apply, call our dental office at 215-545-1202
General & Cosmetic Dentist for the Whole Family